About the Talkowski Laboratory
The Talkowski Lab is focused on understanding the genetic etiology of complex neurodevelopmental and neuropsychiatric disorders. Our research group integrates molecular and computational genomics approaches to understand the functional consequences of genomic variation, with a particular interest in the relationship between genome structure and function. 
Dr. Talkowski's program has been recognized for its impact in introducing sequence-based genomics into the field of conventional cytogenetics and prenatal diagnostics, performing the first large-scale sequencing studies of chromosomal abnormalities in neurodevelopmental disorders, and the first example of whole-genome sequencing of a prenatal sample. Our studies have discovered the highly complex chromosomal rearrangements that occur in the human germline, including extreme examples of chromosome shattering now recognized as 'chromoanagenesis' and 'chromothripsis', and characterized novel and recurrent classes of complex structural variation that exist in all human genomes, often mediated by cryptic inversions. 
Our group is actively leading studies to explore the genetic architecture of autism, including the first large-scale whole-genome sequencing studies in autism families. We have also performed a series of functional genomic studies using genome editing techniques and iPSC technologies to investigate loss-of-function mutations associated with autism and rare Mendelian disorders such as congenital arhinia and X-linked dystonia parkinsonism. These studies have also defined long-range positional effects resulting from alteration to three-dimensional regulatory structures encompassing genes critical to neurodevelopment. 
In addition, we have benchmarked the implications of emerging genomics technologies in diagnostic screening. We performed the first WGS of a fetus to derive a molecular diagnosis, and recently compared the diagnostic yields of WGS compared to conventional methods in fetal structural anomalies in NDDs. These results were presented at the American Society of Human Genetics annual conference in 2019.
Collectively, these efforts suggest that there is great promise, and substantial challenges, associated with the complex disease studies and genetic diagnostics in the emerging era of genomic medicine. 

The Center for Genomic Medicine is leading an effort to complete the genomic medicine cycle – from genetic discoveries to mechanism to the clinic – by assessing where genomic medicine will have the greatest impact on human health, and by driving efforts to implement genomic medicine in those areas, at MGH and beyond.
The cycle is a paradigm for disease research that begins by comparing human phenotypes and genetic variation to identify genes of importance in human disease, then moves on to characterizing the mechanisms by which the underlying DNA differences lead to disease, and is completed when the knowledge gained delivers benefit back to patients in the forms of improved diagnosis, disease management, and treatments.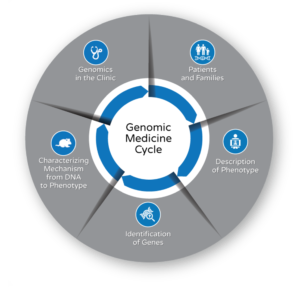 In addition to our genomics laboratory at MGH and the Broad Institute, Dr. Talkowski is the founding director of the Genomics and Technology Core of MGH, which seeks to develop new technologies and provide molecular and computational genomics capabilities to the local and external research community.  We also have a large network of collaborations within the MGH, Harvard, Broad Institute, and MIT communities, as well as external collaboration throughout the US and internationally.
We welcome inquiries from highly qualified scientists at all levels from graduate students to senior staff scientists interested in joining our research team and collaborative network to study the genomics of human disease. Please see contact information here.
Recent Posts
talkowski
X-linked Dystonia-Parkinsonism (XDP), is a rare Mendelian disorder predominantly observed on Panay island in the Philippines. The clinical phenotype most frequently combines features of dystonia and parkinsonism in a characteristic temporal progression. A region of [...]
Events
talkowski
Selected for a Plenary Talk, Claire presented the latest results from the DGAP study. "By mapping the breakpoints, we were able to identify genes that were disrupted in patients with birth defects, which suggests that these [...]